We are committed to enhancing the security of your information, including the transmission of confidential information to you.
We will be using a UOB Secure Email system to protect the contents of an email from being accessed by unauthorised recipients. The system will secure the confidential email communication by encrypting the entire email, including the email message and any attachments. The email can only be accessed by visiting the UOB Secure Email system using a password which you will need to set up once on your first visit to the system.
Viewing the encrypted mail
When you receive an encrypted email for the first time, please register your email address and password within the UOB Secure Email system. Subsequently, you can access the encrypted email by using the same password.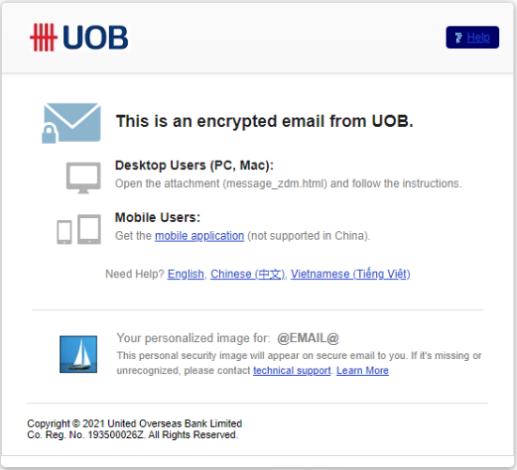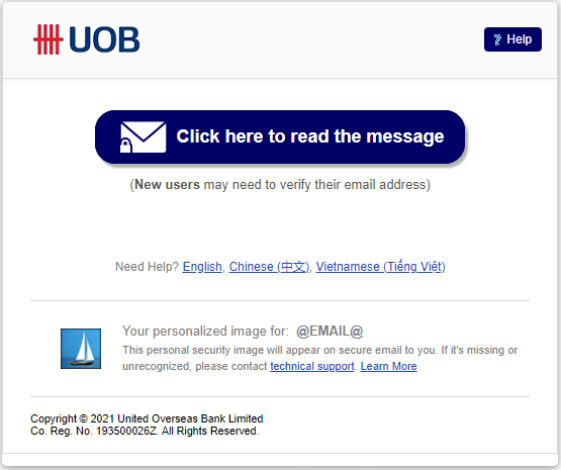 Replying to the encrypted mail
After viewing the encrypted email from the UOB Secure Email system, you can respond using the Reply option within the system. The email reply sent through the system will also be encrypted. You may copy yourself to receive the email reply in your primary email inbox.
Email Security
Every time you receive an encrypted mail from UOB Secure Email system, please remember to ensure that the sender email address and URLs embedded within are from one of the following domains: uobgroup.com or uob.com.my or uob.co.th or uobservices.co.th or uobchina.com.cn or uob.com.vn.
As well, you can see an image in the encrypted mail notification. The image is unique to you and will be the same every time you receive an encrypted mail from UOB Secure Email System.
For further details on how to use the UOB Secure Email system, you may refer to these FAQs.